Stravaigin
Luath Press Ltd ISBN 190522270X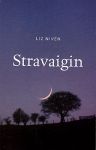 Stravaigin was originally published by Canongate in 2000 and republished in 2006 by Luath Press. This poem is from the section entitled The Loch District.
Loch
The loch kens its boondaries,
sure o forms frae
ice age days gin muckle
dunts filled,
wi watter
caller an clear.
Nae man an island they say,
bit whit o wumman like loch?
Settlt o her boondaries,
kennin her depths.
Pine circles watter's edge
thraws back thir ain swaps
on winless days,
like faithers, mithers,
sisters, brithers,
sons, dochters
generations repeatit, genes returnit.
The loch kens its deeper strechts
whaur dreid lurks or
warmer, shilpit pools whaur
lauchter, leisure, labour
can be heard.
The loch his derk islands
that monie try tae win bit
they're turnt back,
kept fae the secrets.
The loch hosts wee craiturs,
swimmin fish alang reeds,
buzzin draginflea, winterin geese.
Plays mither fir birthin,
speirs naethin in return.
Unconditional lou o a parent.
Nae questions speirit
the elements poond.
Licht braks,
nicht faws,
loch stauns.
Reviews of Stravaigin
"The stance that Liz Niven takes, that the Scots are internationalists, travelling, commentating and contributing, makes this collection unique and important, particularly as the poet frequently uses the Scots language to address other cultures and by doing so reclaims our mother tongue as literary, contemporary and internationally valid" - Janet Paisley
'…what makes Stravaigin important, beyond the sheer beauty and warmth of its poems, is that both these different wavelengths reach us and touch us, and that whatever tone or mode she is using, Liz Niven's voice is wry, warm, and human.' - Alastair Reid
'This collection of relatively recent work from the leading Scottish poet Liz Niven is a refreshing wash in the rare waters of minstrel poetry.' - The List.
'Niven's earthy humour and acute eye for detail make Stravaigin a collection well worth checking out.' - The Big Issue.
'…a more lyrical and incisive vision than this could not be hoped for. A perfect foil for Irvine Welsh.' - Buzz Books.
'Affirming and resonant, she's a worthy heir to MacDiarmid's crown.' - Waterstone's, Bath
'Liz Niven's poetry is mature and humane…Her feminism is another aspect of her enlightened stance.' - PNReview
'Gutsy and confident' - Scottish Studies Review ASLS.
'I find her use of Scots modern and inventive, witty and not smelling of the dictionary.' - Dorothy McMillan, editor of Modern Scottish Women Poets pub. Canongate.