About Liz
About Liz | Educational | Residencies | CV | Podcast | Event Poster
Educational Work
Liz, a former teacher of English and Learning Support, has delivered creative writing and language workshops for 20 years. She has held residencies in many schools across Scotland and delivered schools' workshops as far afield as Beijing.
She has been a setter for the Advanced Higher Scottish & English Language paper for SQA (Scottish Qualifications Authority) for 6 years and was a Marker for Adv.Higher Creative Writing poetfolio in 2008.
Liz Niven regularly holds Educational residencies, short and longer term, across Scotland. These have been hosted by the Scottish Poetry Library, Scottish Book Trust and the Poetry Society of London as well as individual Education, Arts teams and City Councils, Scottish National Gallery, Historic Scotland. She has facilitated creative writing for pupils and staff through CPD in Scottish Authorities.
Liz Niven: Further Details

Portfolio

Collections: 'Cree Lines' (DGAA/Watergaw 2000)
Past Presents (Akros 1998)
A Drunk Wumman Sittin on a Thistle (pub. Markings 1999)
Stravaigin (Canongate 2001)
B urning Whins (Luath 2004)

Other Publications: A Braw Brew+Teacher Notes (Watergaw),
Solway Stills (Dumfries & Galloway Educ),
Doadie's Boadie (Scots Language Resource Centre),
The Story of Ninian & A Play about Ninian (Watergaw/D & G Educ).
The Sound of Our Voices (DGLibraries)
The Scots Language: Its Place in Education (co-ed. R. Jackson.Pub. by Watergaw) Scots Language Pack: D & G. Educ. Dept.
The Kist SCCC (TES/Saltire Award 1997),
Haud Yer Tongue (Channel 4 Scots Language for Schools Programmes),
Turnstones1( Hodder & Stoughton 2001)
The Scots Language in Education in Scotland (Mercator).
Prose broadcast on BBC Radio 4 and Scotland.Poetry on BBC Scotland and Ulster.



Writer-in-Residence Dumfries & Galloway Arts Association 1998-2001
Poetry installations in granite, oak, sandstone and metal for River Cree, Galloway in 1999 (Newton Stewart Business Initiative)
Millennium collaborations with photographer Zvonko Kracun (Dumfries & Galloway Arts Ass. 2000)
Inverness Airport Residency (Highland & Islands Airport Ltd. 2003)
Poet on a Plane commission (Documentary Hopscotch TV 2004)
Schools Residencies to facilitate new pupil poetry for fabric of new school building.
Lectures and workshops for Teachers' INSET & CPD



Recent Projects:

Inverness Airport Residency 2003. Commissioned to fly to 9 Islands in Scotland, conduct workshops, give poetry readings, write new poetry.Publication of 'Flight Lines' for In-flight and Airport magazine.
Subsequently (2004) this was the subject of an ITV documentary by Hopscotch Films, Glasgow and screened on National TV.

Writing Residencies with 2 Edinburgh schools,Gracemount & Craigmount High. Both schools building new through PPP and commission required the facilitation of new writing from pupils. After collaboration with an artist (Tim Chalk) this was set into the fabric of the new school building and unveiled by the MSP for Arts, Sport and Culturein October 2004.


School quotes: Education Residencies

'Liz is a regular contributor to Scottish Poetry Llibrary education programmes as a deviser and leader of poetry/writing workshops for school children of all ages, and professional development training sessions for primary and secondary teachers.

According to themes we provide, Liz interprets with verve and originality, delivering a wide range of workshops for pupils in schools all over Scotland, at SPL and in other cultural venues. She has undertaken extended poetry writing projects with two Edinburgh City secondaries, working closely with pupils and staff through lengthy and demanding processes to produce celebratory poetry to be incorporated into the fabric of new school buildings. The strength of her ongoing relationships with these schools, together with feedback from pupils and teachers involved testifies to the skill, commitment, energy and vision with which she shaped the writing process, sustaining and nurturing the young people's work and creating for them (in their own words) an "unforgettable experience.

Liz has a detailed knowledge and understanding of the 5-14 Scottish National Curriculum which directly informs her delivery of young people's and teachers' workshops. This reflects our own concern to meet specific learning and teaching needs through our provision but it also ensures that our ongoing dialogue is fruitful; we frequently seek advice from Liz in our planning.

In addition, her keen perception and sympathetic appreciation of the differing learning needs and abilities of participants is inherent in Liz's working style. This means that her endeavour answers to our desire to ensure that everyone finds pleasure in poetry and writing. She is as comfortable with very young participants as she is with teaching colleagues. The latter group respond to her training events (focusing on teaching poetry-writing to pupils) with enthusiasm and with relief that here is provision that meets their practical needs and assuages their some of their deepest insecurities about how to 'teach' creativity. "Brilliant"; "practical ideas that I can use immediately and in the longer term" ; "fresh ideas" ; "left me really inspired", are some of the comments they have made.

Above all, Liz, motivates, energises and creates an atmosphere of security in which individuals' efforts are rendered valuable, and enjoyed. Her own passion, warmth and humour are the seasoning to the mix. She leaves young people wanting to be poets, too; one young person's poem, written at one of Liz's workshops, went on to become a regional competition prizewinner.

We take as much pleasure in recommending Liz Niven to you as a writer-teacher, as in continuing to work with her ourselves.

from the Education Officer and the Director, The Scottish Poetry Library.


'The first time I attended a workshop run by Liz Niven was when she was leading a creative writing workshop with a very unruly group of 28 pupils, and a teacher taking a back seat. Liz impressed me by managing to lead a very inspiring and imaginative workshop, produce a very impressive group short story, and be very calm.

In 2004, Liz was invited to lead the poetry workshop at our 3 day Creative Writing Workshops for Higher Still pupils. The feedback we received from both teachers and pupils were extremely positive and we have asked Liz back for our 2005 workshops.

Liz's workshops are focussed at an individual level and she opens all to the poetry, including myself and there is enormous satisfaction in suddenly realising 'you can write'. The following are snippets of feedback from our evaluation forms: Liz Niven made me realise I could write poetry even when I thought I could not; I learned how to construct a poem correctly; I found the poetry hints from Liz very helpful in making poetry interesting and easier to create. Poems don't have to be structured. Just write down what comes to you.

Cultural Co-ordinator, Aberdeenshire Council

'It was a unique and unforgettable experience for me – and I'm sure for all the pupils too. Liz was able to tap into the well of hidden creativity and release the stream of words in a sensitive, yet disciplined way'. Sheila Whyte: 5th year class teacher
'The teachers found Liz's approach inspirational and some reported that they felt they knew their pupils better as a result of these sessions'. Sara Marsh, School Librarian
One member of staff commented that Liz's sessions had changed their perception of teaching poetry, and clearly Liz changed the perceptions of some of the pupils, too! Cathrin Howells, Literature in Learning
ASLS
Liz's poetry and language work is included in many Scottish schools' curriculum. The poem below is published in 'Stravaigin' and Teacher Notes for Textual analysis of this poem for Higher English: Intermediate 2 are available from the Association of Scottish Literary Studies www.asls.org
Tourists at Auschwitz
We'd been telt
nae birds wid sing.
True it wis bit tall trees
shrooded brick wark camps.
Row upon row, they stretcht,
far as the greetin een cuid see.
Hidden fae view,
gas chaumers lay buriet,
unner foondations crummlt,
as butcher builders fleed.
A million an a hauf stanes pave
memorials in monie tungs.
A brick fir ilka deid sowel.
Vyces are low, few picters taen.
Nearhaun,a watter-fillt hollow,
algae covert, still hauds human ash.
A haun-wringin guide tells us mair.
Wirds hing heavy.
Intae sic silence,
a green puddock lowps a perfit bow,
oan the staignant loch.
The freize at the top of this page is from Gracemount High school, Edinburgh. The completed installation runs along the wall in the hall of the new school building and is the result of a Project in text and image with school pupils.
School Project Images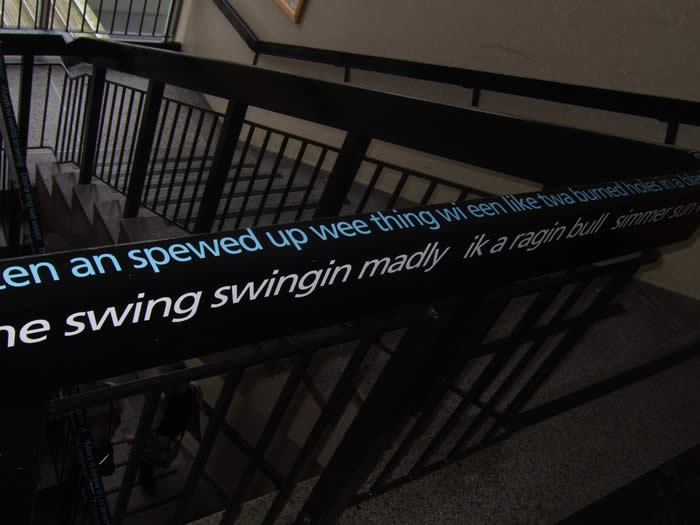 Langholm Academy Scots Poetry Project