Burning Whins
Luath Press Ltd ISBN 1 842820745 2006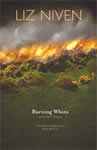 Burning Whins concerns itself with relationships and ownership. Describing the Scottish Parliament, plane travel in the Western Isles, and the destruction wrought by the Foot and Mouth epidemic, the poems depict the many faces of contemporary Scotland. Prints by artist Hugh Bryden
Some poems from the collection appear below.

As Poet-in-Residence at Inverness Airport, Liz travelled to Barra, Benbecula, Wick, Orkney, Shetland, Islay, Stornoway and Tiree. The Residency was funded by Highlands and Islands Ltd. www.hial.org.uk as part of their Gateway Arts Project. Liz flew with British Airways and their subsidiary, Loganair.
A documentary of the Residency, entitled 'Poet on a Plane', was filmed for ITV by Hopscotch Films www.hopscotchfilms.co.uk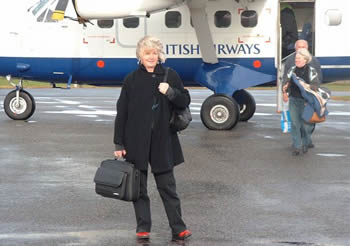 The poem below is from a section entitled 'the Angel's Share' which contains poems resulting from a residency at Inverness Aiprort.
Orkneyinga saga: Far from home
Fara
Honda
Flotta
Swona
Stroma
Balfour
Toab
Deerness
Westness
Stromnness
Westray
Rousay
Stronsay
Aith
Ronaldsay
Melsetter
Copinsay
Shapinsay
Wasbister
Otters wick
Holm.
Another section of Burning Whins is called 'Picasso's Timeshare' A series of poems relates to Picasso's Spain observed through a contemporary lense..
Purchases at the Timeshare
For fifteen hundred Euros
you can have eyeball jewellery:
implants.
A fifteen minute operation will insert a
three point five millimeter
piece of specially developed
jewellery into
the eye's mucous membrane.
A glittering half-moon
and a heart are available.
Jewels only visible when
the eye is turned.
A waiting list already exists.
A glossy mag explains how
you can clone your pet.
Folk have phoned in.
'I have a ball my dog played with.
It's covered with saliva.
Can you clone from that?
Or a bit of fur?
A tooth?'
Unfortunately,
a couple of months
is too late.
Only within a few days
of death can the procedure
be done.
Start to think of it now,
A swatch from your dog's stomach,
Your beloved cat's inner mouth.
And start saving
The fifty thousand dollars
So you're ready.
Reviews of Burning Whins
'Liz Niven's latest poetry collection is the kind of stumbled upon gem that should be kept handy and dipped into again and again. The range of Niven's observations and the eloquence of her verse are remarkable. The opening section of 'An Turas' was inspired by a nine-destination tour of the Highlands and Islands to which the poet has applied her keen eye for the multifarious stories that can arise from the seemingly mundane drudge of air travel.
'Merrick tae Criffel' showcases Niven's talent for exploring Scotland's language and culture in startling new ways, including an ingenious conversation between two peaks, bemoaning the fallout from the Foot and Mouth epidemic.
'Picasso's Timeshrae' contains some astute reflections on art; and, in 'Found Objects', the poet has fun picking apart and reassembling overheard fragments, phrases, clichés and remembered conversations from the banalities of airline magazines to the cold, hard demands of a child seeking a really exciting bedtime story. - Allan Radcliffe in The List
Few could turn something quite as dull and soulless as a questionnaire into a poem, but in 'Barra Airport' Niven does it beautifully: 'Any comments?/Beware the Barra flight can enter your soul/leave part of your heart like driftwood/on a Hebridean shore.' This collection is divided into four parts – the first concerns travel to the highlands and islands; the second with the countryside; the third with art and the fourth an eclectic 'Found Objects'. All four parts contain some poems in Scots, and Niven often uses the vernacular either to puncture the pompousness of official language, or to drive home a political message. It's hard to escape the politics in the poetry, although Niven writes without being pedantic. Based on the foot-and-mouth crisis, 'Merrick tae Criffel' is a dialogue between two hills, one speaking in English, and is by turns angry, pitiful, desperate. It also extremely effectively shows just how musical Scots is by comparison: 'I've heard many a sad tale this year …Aye, vices wull be heard again/ askin questions, speirin o why guid beasts wir kilt at aw? Speirin wis it aw fir the sake o siller?' - Scottish Review of Books Vol. 1, No.2
A memorable collection from a poet well versed in Scotland's languages. - Anne Donovan Sunday Herald Best Reads of 2005
The intimacy and care Niven exerts in her poems to describe a contemporary Scotland, coupled with the humor of the people, and how the country fits in on an international level make this book a pleasure to read. Most importantly Niven is likeable, relatable, and capable of laughing at herself. She is attentive to not only her landscape, but how she interacts in a setting as well, "On with the hard hat in canary yellow/ (appropriate colour to match my cowardice)." This book, through insight, allows the reader to feel closer to Scotland whether the reader has lived in this country all his or her life, or is just passing through. - Lauren Pope: Edinburgh Review of Books.